Vogue 1327
I've just finished making Vogue pattern 1327, its taken a little while because I am trying to improve my finishing!
This is what it looks like made by Vogue...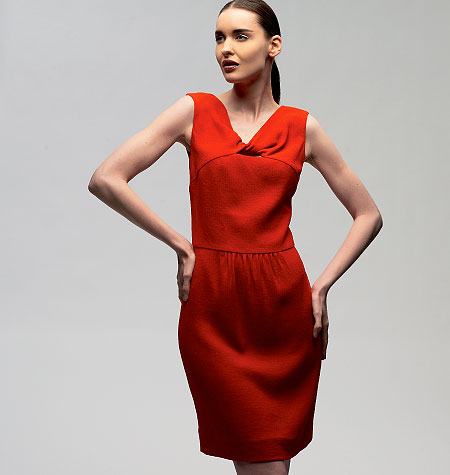 And this is what it looks like made by me...
Pretty similar don't you think?
The main feature is the twisted bodice and its worked out well despite me pinning and sewing the lining in and then trimming the seams before realising that the twist had come out before I'd pinned it - oops! I managed to rectify but only just - this fabric frays as soon as you look at it, my house is covered with duck egg blue thread.
Here is a close up.
And this is what took me a little while on the inside.
The bias tape on the hem is making me really happy!
Mr B isn't sure whether I made enough bias tape...
... I may have gotten carried away. Still plenty left for future makes!
And I can't resist a little moan about the pattern.
How can I be a size 6 bust and a size 14 hip? Ridiculous!
Pattern pieces overlapping on the tissue? Annoying!
And what about these for pleat markings?
I don't know what is going on at the fold line. Somehow when I folded it all I had 8 pleats going one way and 5 in the other so I ended up gathering it in the middle instead.
I'm determined to have made something else by the end of June. Definitely.