Vogue 1362 - Part One (of many)
I've been back from my holidays for a few days now and thought I should get going on a new sewing project.
We've got a family wedding to attend on 20th September so that should be plenty of time to make Vogue 1362? Shouldn't it?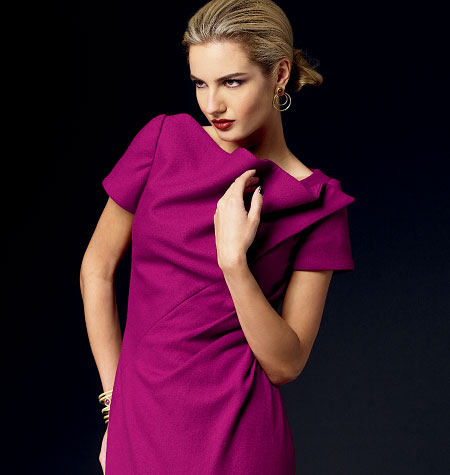 I can't find anyone else on the internet that's made it yet so I don't know how it might work out, however nothing ventured nothing gained as they say!
I've started out by making a kind of toile to check the fit (I probably should have made a complete version but that might take some of the fun out of things).
I used pattern pieces 12, 13, 14, 15 and 16 to put the lining together, cutting an 8 at the bust, 12 at the waist and 14 at the hip. I've graded out to the 14 much lower than the marked hip line which I think has solved the shape problems I've had with some of my previous makes.
I need to learn to stand up straight though and note to self the hemline slit comes up indecently high on me!
So I need to find some fabric pronto! The colour on the original is quite nice maybe?
"Just as long as it doesn't make you as mardy as that lady" says Mr B.
Do you know anyone that has made this dress yet? Are you planning to sew it yourself?